News
News
Our development team has created specific fields within the Prestige ePCR application, in accordance with the NEMSIS recommendations, to assist you with tracking the COVID-19 related contact. The new fields are located in the custom data element of prestige ePCR. The fields describe travel and exposure.
The CDC and NEMSIS have recommended we document the following chief and or secondary complaint using the following Z codes for COVID-19 patient contact; Z20.828-Contact with and (suspected) exposure to other viral communicable diseases, Z03.818- Encounter for observation for suspected exposure to other biological agents ruled out.
NEMSIS is preparing to monitor the reporting of the following signs and symptoms; R05(cough), R06.02 (shortness of breath), and R50.9 (fever, unspecified). The new COVID-19 specific fields will be located in the custom data section of the ePCR application. The compliant and impression tables also include the following COVID-19 options.
Please do hesitate to contact us regarding questions or training on these additions. 
---
Medicare Announces Advanced Payment Program
CMS has announced an expansion of its accelerated and advanced payment program for ambulance services to ensure they have the necessary resources to combat the COVID-19 virus. CMS is working to lessen the financial hardships of providers facing challenges related to the COVID-19 pandemic and ensures the nations' providers can focus on patient care. 
Summary -  
CMS will provide an advance for three months' worth of revenue to services that are approved. Applications will be submitted to the ambulance services MAC. The MAC would make payments in seven calendar days of the request. Repayments would begin 120 days after payment is issued.  
Requirements -
Have billed Medicare for claims within 180 days immediately prior to the date of signature on the provider's/supplier's request form,

Not be in bankruptcy,

Not be under active medical review or program integrity investigation, and

Not have any outstanding delinquent Medicare overpayments.
Should you have any questions or concerns, let us know. All of us at EMS Consultants appreciate everything you and your team do for your communities. We are praying for the safety of everyone, especially those of you on the front lines. 
An informational fact sheet on the accelerated/advance payment process and how to submit a request can be found here: www.cms.gov/files/document/Accelerated-and-Advanced-Payments-Fact-Sheet.pdf
The link below will take you directly to the COVID-19 section of CMS' website.
https://www.cms.gov/about-cms/emergency-preparedness-response-operations/current-emergencies/coronavirus-waivers
For more details on the CMS press release, please see the link below.
https://www.cms.gov/newsroom/press-releases/trump-administration-provides-financial-relief-medicare-providers
---
EMS Consultants is excited to announce V3 release in Alabama
EMS Agencies around the country are currently transitioning to the NEMSIS 3 required format.  The updated format can be beneficial, yet cumbersome because of the additional data elements that are required for reporting.  EMS Consultants has been working closely with State EMS officials and ambulance personnel to get the best of both worlds. 
With the upcoming January 1 transition for State Reporting requirements in Alabama, EMS Consultants is planning our first statewide deployment of the new & improved ePCR3 software.  EMS Consultants was one of the first 10 vendors to be approved by NEMSIS to report in the V3 format, but elected to only release the application where necessary for compliance purposes.  This upcoming release marks a new chapter in EMS Consultants rich 30 year history of EMS Software , and we look forward to the future of patient care reporting. 
Key Features of the New Application:
Enhanced user interfaces utilizes bigger buttons & icons for ease of use
New layout is medic friendly and familiar to current Prestige ePCR users
Quick buttons allow medics to easily navigate to commonly used sections
Enhanced defaults can cut out redundant data entry

New recommendations/info warnings can can help medics increase data accuracy scoring

Narrative generators populate completed information in reports and warn medics if information is missing
New & improved sync design increases speed of sync process and lets user know last sync date/time
Rejected calls are automatically associated with messages for explanation of what needs to be corrected

New ePCR3 Host allows for medics & EMTs to have web access to their reports.  This will allow medics to complete incomplete & rejected reports from anywhere with internet access
The new Host design allows administrators to have more involved Q/A by sending messages without having to reject reports
The ePCR Business Intelligence (BI) Reporting platform enables administrators to put their data to use.  BI is an AdHoc reporting tool that can essentially report on any data your medics are capturing.

If you have any questions about ePCR3 or or any other products & services we offer, please give us a call at 800-342-5460 or visit our website at EMSCLTD.com

---
The Medicare Appeals System Back-Log by Chris Kelly, Chief Legal Officer, EMS Consultants
On Thursday, June 29th, 2017, CMS contractor MLN Connects hosted a National Provider Call explaining changes to the Medicare Claims & Entitlement Appeals Process. There was a lot of new information given out about coming changes in the current system, some of which may result in a more efficient appeals process, but let's take a minute and consider the last major over-haul of this system.
In 2004 Medicare made major changes to the administrative appeal process, ending the "hearing officer" role and implementing the Qualified Independent Contractor ("QIC") as the intermediate level of appeal between the Carrier and the Administrative Law Judge ("ALJ"). Since the QIC decision is based purely on paper documentation and not on an actual hearing, these changes were intended to speed up the process and grant access to each level of appeal in a timely manner. Medicare also set forth rules that no provider would have to re-pay any overpayment assessment during the first two levels of appeal, that is until after the QIC issued its decision. However, any remaining amount at issue after the QIC decision would be subject to recoupment or offset if the provider did not either repay that amount, or enter into a repayment agreement that would be sufficient to pay back the sum, plus interest, in no more than 60 months. That may sound like a long time, but many of the overpayment assessments in these cases are in excess of $1Million, therefore even a 5 year repayment plan can mean monthly payments of $20,000 or more.
Now, getting back to the appeals process. After the QIC issues its decision, it is taking up to 2 years before you get appointed a judge at the ALJ level of appeal, it may be months after that before your hearing, and then several more months before you get a written decision. That means that you could be paying these huge repayment amounts for 24, 30, even 36 months before you actually get a determination on the merits of your claims. For many healthcare providers, that kind of un-budgeted expense can be a door-closer. The reality is that if a provider cannot afford to make payments, or cannot survive with no Medicare claims being paid for this extended time, then even though they have a good argument that they should not have to repay the amount assessed, they will be out of business before they ever get a chance to argue their position before a judge.
Why is there such a delay when the 2004 changes were supposed to be improving the speed of the appeals process? The reason is a huge back-log of pending cases; there are literally not enough judges to hear and write decisions fast enough to keep up, and it's been that way for years. But that begs the question, why is there a back-log? To that I can only give my personal opinion, which is that the back-log has been created because CMS has tripled the number of auditors who are conducting post-pay reviews, while giving these auditors a financial incentive to find over-payments, thereby creating a class of Medicare bounty-hunters that deny everything in order to increase their profits. This leaves providers with a choice: either repay these huge overpayment assessments or appeal. Obviously, providers who believe in their claims choose to appeal and fight for the payments they believe they have earned. Therefore, we have more cases in the appeal que than ever before.
Let's just hope that the next round of changes are more successful than the last, and that providers will get some substantive relief from huge repayment demands. To see all changes that may be coming, visit the MLN Events website and click on the "Improvements to the Medicare Claims & Entitlement Appeals Process" to access the PowerPoint that was used in the June 29th presentation, to find the HHS Fact Sheet and to find transcripts and an audio recording of the call.
Christopher Kelly is a lawyer who focuses on regulatory healthcare law as it relates to the EMS and ambulance industry.
This article is not intended as legal advice. For more information or questions about the Medicare appeals process, he can be reached at EMS Consultants, Ltd., (800) 342-5460 or email to ckelly@emscltd.com.
---
Medicare Issues Contract to Another Compliance Auditor - By G. Christopher Kelly
If you are a healthcare provider, you know that Medicare auditors are part of the landscape. They have evolved and multiplied over the years; "Program Safeguard Contractors" became "Zone Program Integrity Contractors" and Recover Audit Contractors were added as an additional layer of review. We have become familiar with these ZPICs and RACs along with all the other government agencies or contractors that may review our claims (like the Office of Inspector General (OIG), the Medicare Administrative Contractors (MACs) and the Medicaid Integrity Contractors (MICs)). But you may not be aware that now CMS has added another set of eyes to audit Medicare claims- the Supplemental Medical Review Contractor. The acronym SMRC may be pronounced "smirk", but it's no laughing matter. This auditor has the same power as a ZPIC; they can select a random sample of claims and extrapolate the error rate from that review into an overpayment based on the total amount of money you have received in the time frame of the audit. To put it more simply, they can look at a small number of claims and recover a large amount of money. So, who is this new auditor and where did they come from? Strategic Health Solutions is the SMRC, but they have been involved with CMS for years before being awarded this contract. In the past, Strategic has been involved with educational projects for Medicare, including reviewing and drafting materials for the MedLearn publications. In 2012 Strategic was granted the SMRC contract for the entire country, and according to their press release they feel that being able to review data on a national level will help them spot potential issues that will lead them to audit targets, allowing them to "lower improper payments to the Medicare program". Before the SMRC contract began in 2013 Strategic had only about 130 employees. They planned on adding 65 additional employees during that first year, followed by an additional 100 in 2014, and then getting up to a total of over 350 employees by 2015. Of course, the more they ramp up their staff, the more ability they have to conduct audits. That might be why I had never heard of them until 2017. According to their website at https://strategichs.com they have been actively conducting audits (and you can see what types of providers they have reviewed in their "completed projects" section), but they have not focused on ambulance providers- until now. In the past month, I have seen several SMRC audit letters. Their focus seems to be on non-emergent claims, but not necessarily on ambulance suppliers who only run non-emergent, they seem interested in any ambulance service that runs any amount of non-emergent transports. Consider this your notice, there's a new kid in town- and he's auditing ambulance claims. If you get a letter from the "SMRC" take it seriously, and respond timely and completely. What you send in can and will be used against you- and it may lead to a huge overpayment assessment. G. Christopher Kelly is an attorney who focuses on federal laws and regulations as they relate to the healthcare providers and specifically to the ambulance industry. Chris lectures and advises EMS service clients across the U.S. This article is not intended to be legal advice, for more information or specific questions, Chris can be reached at ckelly@emscltd.com .
---
Tennesse Ambulance Service Association - Reimbursement & Compliance Conference
 EMS Consultants will be attending the upcoming Tennessee Ambulance Service Association - Reimbursement & Compliance Conference on September 7 & 8 in Murfreesboro, TN.  Chris Kelly will be speaking and this is a great opportunity to gain new information & insight on the ever changing reimbursement & compliance issues facing our industry.  We have many new developments including our business intelligence web portal for our billing service clients and much more that we are excited to share with you.  As a proud sponsor of this event, we look forward to seeing each of you there!
---
CMS Effort to Crack Down on Medicare Fraud Results in 243 Attests in One Day
The Medicare Fraud Strike Force (yes, they have a Strike Force!) acted in 17 districts, resulting in charges against 243 individuals alleged to have collected more than $712 Million through various Medicare fraud schemes.  Additional healthcare providers who were not charged criminally were suspended from the Medicare program by CMS under its new suspension power granted under the Affordable Care Act.  This coordinated, multi-agency, effort is the largest in Strike Force history, both in terms of the number of defendants charged and loss amount alleged, evidencing a serious attempt by HHS/CMS to combat fraud in what is believed to be the most problematic areas (Miami, Tampa, Brooklyn, Houston, Dallas, LA, Detroit, and New Orleans).   A summary of the allegations from the press release identifies a variety of providers (physicians, nurses, and "licensed health professionals") and a number of illegal schemes (kick-backs to patients, referral sources, faked services, unnecessary DME and prescriptions), however no ambulance service supplier or transportation scheme was noted- perhaps a good sign after so much bad press against our industry in recent years.
For more information, see the HHS press release at:  http://www.hhs.gov/news/press/2015pres/06/20150618a.html
---
Freestanding Emergency Rooms by: Joseph Cardin, VP of Billing Services
Many clients have noticed freestanding emergency rooms becoming a trend.  The freestanding emergency rooms are hospital affiliated, but don't offer inpatient services.  The ambulance service and facility should work out what type of patient conditions should and should not be transported to the freestanding emergency room.  The unfortunate truth about this facility is that Medicare considers a freestanding emergency room a physician's office, which by default makes the transport a non-covered service.  Palmetto GBA says, "For Medicare purposes, urgent care centers, clinics and freestanding emergency rooms are considered physician offices".  This means when billing these transports a freestanding emergency room should be associated with a "P" modifier.  
---
Web Portal Solutions by: Chris Waugh, VP of Technical Services
The first experimental fax machine was invented in 1843 by Scottish inventor Alexander Bain. It is hard to imagine the healthcare industry still relying on a technology invented over a hundred and fifty years ago; however, the EMS industry still relies on this method as the preferred way to send patient care reports to receiving facilities. Faxing is HIPAA compliant and does work for many providers, but there is another option that should be considered.  EMS Consultants offers a web portal solution that has many security and cost benefits for providers and facilities; additionally, it paves the way for the modernization of communications between EMS providers and facilities.
Prestige ePCRs' web portal solution offers facilities a way to retrieve patient care reports without faxing. Within the portal, the facility may print or save the patient care report at their convenience. This may help improve the workflow at the facility while keeping their fax machine from printing numerous reports. The web portal feature is great for EMS providers or facilities that want to go paperless. With the current climate in the industry any cost reducing methods proves to be a huge benefit to the bottom line.
EMS Consultants provides both a fax solution and a web portal solution as discussed above. If you would like to discuss setting up the web portal feature for any facility, or have any questions please contact the EMS Consultants Technical Support Team at 866-399-4170 and we will be glad to assist you.
---
Medical Necessity Forms a National Issue by: Jeremy McGee, Director of Training

If your ambulance service transports Non-Emergent patients you have at some point received an invalid "Medical Necessity Form, PCS or Physicians Certification Statement" whatever it is you call it.   It is the responsibility of your service to have one on each non-emergent transport.  Not only do you have to have it, but it must be signed legibly by the appropriate person, dated, and show the necessity of the transport. If any of these requirements are not met then they are in fact invalid.  Of course if the statement on said form is not true, your crews should never document just to match it. If the doctor or nurse lies to you no one cares. If your crews propagate this non truth to their run report and you bill it as described you just lied to the insurance company to receive reimbursement.  Can anyone guess the F word in that scenario?  

It has long been the case that the doctor or nurse that completed the form could inaccurately describe the patients' condition without any consequence to themselves. As outlined above I hope you can see how you could bring heavy consequences to your service or yourself.  Now as a provider you have a terrible predicament on your hands when a form is filled out to reflect a non-truth.  For instance the doctor says "the patient requires O2" I guess they have never seen the small green tanks or the new and improved O2 generators that people wear like backpacks to their favorite casino.  This of course is compounded when you get the patient home and they have no such need.  At this point you must remove the patient from O2 therapy that has been ordered by a doctor according to the POS I mean PCS in your hand.  This is just one of a hundred liability scenarios this form can put you in.

There may be a light at the end of the tunnel, recently a case in Florida has sparked a new look at this old enemy.  Basically a state attorney by the name of A. Lee Bentley III did a very good job of reviewing several ambulance cases.  In this examination it became clear that the sending facility was not only aiding but causing the transportation of patients that did not meet the definition of medical necessity and costing the tax payers millions in unneeded transports.  He subsequently had the hospitals agree to pay back millions of dollars.  It is also important to note that the ambulance services also had to pay back well over a million dollars as well. This is something that we as providers have always wanted and it looks like we may get it. 

Getting what you ask for is sometimes a double edged sword.  Yes, it is great that someone has now held somebody other than an ambulance service responsible for a bad PCS.  But what will this mean for you and me?  I am afraid we will see some hospitals and doctors less inclined to complete the form at all.  It is already a task to get one of these completed but tack on a seven figure fine and it's a lot less likely for a doctor or nurse fill one out. 

Only time will tell how this will all work out but be mindful that you have to have a completed PCS for all Medicare non-emergent transports.  This isn't an option it is a requirement.  You will have to stand your ground and demand this form before you transport the patient. 
---
One Ambulance Service, Four Hospitals Settle Fraud Case by G. Christopher Kelly, Esq.
The U.S. Attorney's office in Jacksonville, Florida, announced a healthcare fraud settlement last month that involved two ambulance service suppliers and four hospitals.  The case was based on "whistleblower" lawsuits filed in June 2011 and August 2014 in Federal Court by a former employee of both of the ambulance services.  The settlement was reached in March 2015 with all defendants except for one of the ambulance service suppliers who denies the allegations.  The U.S. Attorney has said that they will pursue the case against the one ambulance company that has not settled. 
The lawsuit alleges that both of the ambulance services altered patient care reports to meet medical necessity and one required crews to falsify information such as pulse ox and EKG readings, while the other ordered EMTs to omit all positive findings that would prevent the trip from being reimbursable.  The hospitals are accused of falsifying patient conditions on physician's certification statements (PCS forms) in order to get patients transported by ambulance who could have traveled by other means. 
While this  is certainly not the first time an ambulance service has been accused of fraud, this is the first time that I am aware of that the government has pursued the PCS issue.  This should give pause to hospitals or physicians who routinely misuse EMS by ordering discharge transport by ambulance when it is not medically necessary. 
Details of the settlement have not yet been made public.  For more information or to see copies of the actual lawsuits, go to  http://www.news4jax.com/news/ambulance-fraud-lawsuits-name-4-area-hospitals/31928530
Christopher Kelly is a lawyer who focuses on regulatory healthcare law as it relates to the EMS and ambulance industry.  This article is not intended as legal advice. For more information or questions, he can be reached for a free initial consultation at EMS Consultants, Ltd., (800) 342-5460 or email to ckelly@emscltd.com. 
---
Transition to ICD-10 by Femi Osibote, VP of Software Development
I am sure that we have all been hearing about this new standard called ICD-10, and that it is expected to replace ICD-9. The questions then become 'what is ICD-10?', 'what do I need to do to be prepared?' and 'what is EMS Consultants doing to help with the transition?'.
ICD-10 is a revision of ICD-9 created by the World Health Organization ("WHO") to be use as a system of coding for documenting various medical conditions including diseases, symptoms, abnormal findings and external causes of injury. ICD-10 is intended to be a significant improvement over ICD-9 in that it allows for greater specificity when describing patient's diagnoses including procedures and services provided. In addition, considering that ICD-9 is at least 34 years Old, ICD-10 provides an update to terminology and  an improved way of capturing emerging diseases. Ultimately, the goal of ICD-10 is to improve the quality of data used in evaluating patient care and claim processing.
Provided that there are no extensions made, the compliance date for ICD-10 has been set as October 1, 2015, according to new regulation published by the Department of Health and Human Services (HHS) on August 4, 2014. For those of you interested in the details of ICD-10 implementation, please see the following link.  http://www.cms.gov/Medicare/Coding/ICD10/Payer_Resources.html
Moving to ICD-10 might seem daunting for many healthcare providers and billing organizations however, adequate planning and training can help with the transition. It is advisable to establish an implementation strategy that includes an assessment of the impact on your organization, a detailed timeline, and budget. The Centers for Medicare and Medicaid Services (CMS) provides educational materials including videos and a handbook to help with the transition.  All organizations covered by the Health Insurance Portability Accountability Act (HIPPA) will be required to make the transition to ICD-10. Health care providers, emergency service providers, payers, clearinghouses, and billing services are all included in this list.
EMS Consultants is working diligently to incorporate all the necessary codes needed for ICD-10 claim processing into our Billing Software products including EMS Billing and Prestige Billing. A new version of our ePCR software is coming to its final stage of development and is also expected to support ICD-10 soon. We at EMS Consultants will be reaching out to our customers to help with installation and testing of the new modules in the coming months. It is important that our clients are aware that they are not alone in making the transition to ICD-10.
---
This month EMS Consultants launched our new website www.emscltd.com. Besides the new look there is improved functionality and a more streamlined approach to getting information out to our clients. Over the course of the next few months we will be adding more content for continuing training on our applications. The website is compatible with Internet Explorer 10 or higher, Mozilla Firefox, and Google Chrome. While getting familiar with the new layout if you have any questions or concerns please contact the Technical Support Team at 866-399-4170, and remember to logon the website periodically to check for new features, content, and updates.

by Chris Waugh, VP of Technical Services
---
The Importance of Computer Replacement
Many ambulance services have a plan to replace their medical supplies in an on-demand and rotational basis. Many ambulance services have an ambulance apparatus replacement rotation. Many ambulance services have a scheduled rotation replacement for cardiac monitors. How many have a built in replacement plan for their computer systems? Not many, is the best answer I can give you.
The use of computers in pre-hospital care has become not only an effective way to gather information but almost a requirement when looking at state reporting and data capture. If you don't currently use laptops on the trucks it is not an if, but when situation. As a software company we use the latest technology to continue to improve our products. We are also required by the individual states to offer reports that meet the level of information they choose. Not to mention the HIPAA limitations requiring us to remain up to date with security risks posed by outdated machines and operating systems. I am willing to wager most everyone reading this knows someone in the healthcare field that is still using Windows XP. This stable, tried and true system has been out of HIPAA compliance since April 8, 2014. Many people still prefer using this operating system for good reason, but the bottom line is that it is no longer supported by Microsoft for the general public. For many agencies the good reason for XP is that they didn't set funds aside to replace these computers. As you can imagine the Feds don't care that you didn't budget for this scenario. If your company were to have a security breach involving one of these machines, even if it wasn't due to the operating system, you will have a real problem explaining why you are not using the newer supported operating system offered by Microsoft. This is one of the many reasons that your service should place all of your computers on a rotation similar of that to your ambulances.
Things you should to consider when looking at the need for computer replacement.
Do all of your current computers work the same?
If your crews tend to not use a certain machine there is probably an issue. For instance, if you don't use a static drive the laptop may look fine but a drop could have caused a scratch on the spinning style hard drive. This can cause data corruption and slow system performance. For this reason, when purchasing a new laptop it is best to use a static hard drive.
Does it look like it has been run over several times?
In this case it probably does have internal damage or has external damage that makes it undesirable to use. Missing keys and buttons make for an unpleasant user experience. It should be noted just because a computer looks tough or seems rugged it won't necessarily hold up better. Crews tend to take care of things they are afraid they might break. We have had good results using tablets that are a fraction of the price of ruggedized systems without the exuberant price tag.
How new is the computer?
In my experience many ambulance services don't consider a 5 year old computer as old. It is without a shadow of a doubt going to be slower than a newer machine. It is also well past what you should set as a rotation schedule and possibly below spec for most enterprise level applications.
Remember two short years ago when you bought it on eBay and it was already outdated?
Buy the newest technology with the latest Microsoft Professional operating system available. This will help keep the laptop as up to date as possible for the longest rotation possible. Touch screen laptops and tablets have dropped greatly in price over the last couple of years and many systems can be had for $1000.00 with an optional no-fault warranty. This makes it much more economical than it has ever been, so try one out. If you don't try the less rugged machine in the real world how do you know it's not going to work for you?
In the world of tightening reimbursement I know that this seems to be an expense that your service does not want to take on. But the truth of the matter is that time is money. System down time while an old machine is in the shop, crews half-heartedly doing reports because it takes forever to load or the screen freezes constantly are all things that cost you money. If you would like a copy of our current minimum specs please feel free to contact your local rep and we will be happy to provide a copy for your reference.



by Jeremy McGee, Director of Training
---
Prestige ePCR Synchronization and Concurrency
Have you ever opened a PCR that you worked on recently and thought to yourself, "I know I put my narrative in here yesterday, but now it's gone!"? I know I've heard this quite a number of times over the last several years, and while it's very easy to want to blame the software for 'losing' your data, I would like to take a minute to explain what is happening , what you can do about it, and what we are doing about it as well.
One of the core requirements for ePCR during its initial development in 2009 was to have the ability for users to be able to access and modify their PCRs from any workstation. Since these workstations (also called 'Remotes') have independent data stores and can be used 'offline', they must be periodically synchronized with the main server, or 'Host'. This synchronization happens at a regular interval, automatically whenever the workstation has a connection to its host (usually internet or LAN). Every time a user begins a new PCR or edits an existing one, a new sync transaction is created and when the workstation syncs with the Host, the most recent change for that PCR from that workstation is transmitted. Within minutes, any other workstations that are currently connected will sync that change down, giving the user the capability to access that PCR from any of those workstations that have it.
Let's walk through the most common scenario that can result in your PCR losing data. We'll pretend that we have a small setup where we have two Remotes and one Host. Let's call the Remotes 'Remote A and Remote B'. User 'Joe Medic' finishes his shift and sits down at Remote A to enter his PCRs for the day. For whatever reason, Joe decides that he'll finish his runs later or maybe even tomorrow. He's already entered some information, the narrative perhaps. So, the next day Joe goes to Remote B, maybe because he likes working on a desktop computer more than the tablet, or maybe Remote A isn't available at the time. Joe sees the PCR he was working on and goes in and finishes up the last few fields he needs to be able to make it 'Active'. He saves it and then clicks the 'Sync Now' button. A day or two later Joe gets a message from his supervisor or QA person who wants to know why he didn't put in his narrative. "But I did put in a narrative!" he says. "The software must have lost it."
So what happened to Joe's narrative? Joe is the victim of what we call a 'Concurrency Conflict'. This happens when a user (or more than one user) modifies the same record from two different locations, where one or the other location doesn't have the latest version of the record. In Joe's specific case, he went to Remote B and began editing his PCR before syncing Remote B to make sure it had the most up to date version of his PCR. What he did, in fact, was 'complete' an older version of his own PCR, a version that didn't contain his narrative. Not only that, but once he made that version active and then synchronized it with the host, that version, with the missing narrative, then became the most recent version. If Joe were to log into the Host and look for his run, he'll see that it is missing its narrative, and he'll think that the software somehow lost it. What Joe didn't realize, is that if he had gone to the narrative tab in the PCR he was editing on Remote B, he wouldn't have seen his narrative, because that version of his PCR was out of date. If he had synchronized the remote before opening his PCR, his narrative would have been there.
So now you may be asking yourself, "Shouldn't the software prevent me from making this mistake?" And the answer would be "Maybe". There are several areas from which this issue could be addressed, training could certainly help, but it wouldn't solve the issue completely. The software could have been written to force users to complete their PCRs on a single workstation and not allow editing them on any other workstations, but then that would take away a feature so many have asked for. We could recommend that everyone get into the habit of syncing any Remote prior to editing existing PCRs on it, but users may forget, or may not have been informed of the necessity of this action. It would indeed seem that the best course of action is to attempt to have the software check that the user is about to modify an out-of-date record, and that is exactly what the software does do, when the appropriate feature is enabled. The feature in question is called 'Enable PCR Concurrency Check' and it can be found in the 'Remote Clients' settings under the Admin menu on the Host. Admin permissions are required to modify this setting so be aware of that if you don't have access to it. You can always talk to our tech support department about checking and enabling this feature. In the future, this feature will be enabled by default, but if your system has been installed for a while, it may still be turned off. In the meantime, having learned a bit more about how the sync works and why it is important to be working with the most recent version of a record, users should be able to reduce the chance of accidentally over-writing their own PCRs by following the recommendations provided in this article.


by Phillip Hosey, VP of Development
---
Occasionally I get asked about my opinion on the use of automatically generated narratives. My answer is always- It depends. Of course you'd probably expect that coming from a lawyer, but this time I really mean is that it depends... on you. Much like any tool, there are proper and improper uses.
Many software applications, including both our own ART and Prestige e-pcr, offer the auto-generate feature. However, whether or not the use of auto-generated narratives is appropriate depends on the policies and practices of the ambulance service using them. There is nothing wrong with making templates for documentation, ambulance services have long used this approach (SOAP, SAMPLE, CHART, etc) to make sure that we cover every required piece of the picture. And there is no reason that we can not populate the narrative field with data we have already put into another section of the trip report (gender, blood pressure, GCS, etc.) just to prevent the necessity of duplicate entry. There isn't even anything that says we can not use standard language in the narrative field depending on the type of transport (specific templates for cardiac emergencies, hospital transfers, etc.). However, at the end of the trip, it is up to the crew to review and revise the narrative, just as it is up to the crew to write a narrative when auto-generate is not used. When crews get lazy and do not do this, it might lead to an incomplete or inaccurate narrative. Actually, inaccurate narratives can be controlled or even avoided by how carefully the template is drafted. Either way, how the crews use the template is the key. If they take it for what it is intended to be, assistance in giving them an outline and a time saving device, and they review and revise, then auto-generated narratives are a wonderful tool. If they get lazy and do not review their narrative at the end of the trip, then it is up to the internal controls of the company to catch that failure and retrain their employees or turn the auto-generate feature off and force them to write from scratch.
If you are not already covering this in the Q/A process, I would encourage anyone using auto-generated narratives to periodically review the use of the feature and make sure that crews are properly completing, reviewing and revising the final narrative.



 by G. Christopher Kelly, Esq.
---
Chamber Awards Top Businesses for 2014
LAGRANGE NEWS
Chamber awards top businesses
March 12, 2014
http://www.lagrangenews.com/news/home_top-news/3871978/Chamber-awards-top-businesses
Three businesses were awarded for their successes over the last year during the monthly LaGrange-Troup County Chamber of Commerce Early Bird Breakfast on Tuesday.
Winning "Large Business of the Year," EMS Consultants LTD has a total of 91 employees and is a software developer for ambulance industry across southern and eastern United States, with a client base of 250 ambulance providers. The business has been located in Troup County since 1988.
Mountville Mills and Powertech America both received the "Manufacturer of the Year" award.  Mountville Mills has been located in LaGrange since 1963 and is now global with more than 600 associates, nearly 400 of them LaGrange. Named the Georgia's 'Family Owned Business of the Year,' it is the country's largest manufacturer of rubber mats; Powertech America has been in LaGrange since 2010 with its "overcapacity of demand" has brought over 500 new jobs to the area. Powertech has also supported local education and community non-profit organizations and become "a place where employees look forward to coming to work." Local of "Teacher of the Year" winners were also presented with a gift on behalf of the chamber.
Following award recognitions, Speer Burdette, president of the Callaway Foundation, presented chamber guests with the progress of downtown LaGrange over the years. Downtown renovation began before 2000, he said, and consultants' focus was "not to lose the charm of the town," specifically referencing the downtown area and Lafayette Square. The plan was to increase the walk-ability of downtown and since then walkways and the city parking deck have been incorporated into the downtown area. A plan for a movie theatre and connectivity to LaGrange College was also apart of the goal.
Carmike Theatre has been a large economic driver in bringing people downtown and Broad Street Apartments have been instrumental in connecting Broad and Vernon streets to the college, Burdette mentioned. With over $50 million in investment in downtown, the government center and Del'Avant have also become great assets to the downtown area, he said. Burdette also reviewed a layout on the upcoming Boyd Park amphitheater project.  The amphitheater would become an entertainment venue and would have a public space for the community to enjoy. The amphitheater would be equipped with 2,000 seats with renovations to the current buildings. There are currently 4,000 parking spaces within half a mile of the park and in the downtown area.
Bobby Carmichael, Executive Director for the Development Authority of LaGrange, also gave an update on the upcoming downtown hotel project. The $15 million Marriott Courtyards hotel will be a 99 room hotel located at the former Mansour's site. With hopes of getting the new market tax credit approved by May, demolition would begin in May or July. Construction would then begin in July and the hotel is expected to be complete by Dec. 2015.
"It's not a done deal yet, but all of us involved are pretty optimistic that this is a game changer for downtown and we can't let it not happen," said Carmichael.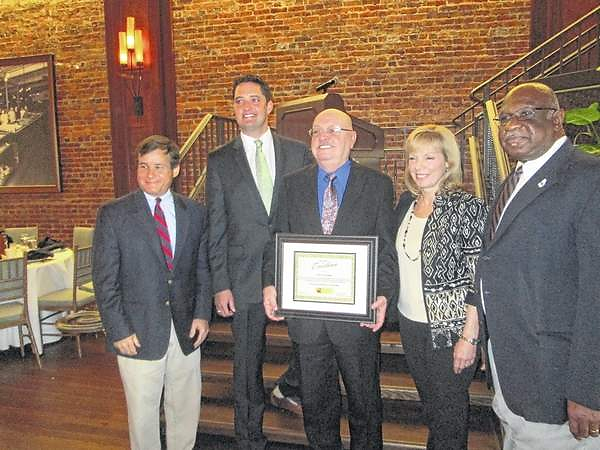 Robby Burch (far left) presented the award to COO Grant Patterson, CEO Richard Tibbetts, and Director of HR Terri Jones as Cliff Meeks (far right) congratulates them.
---

| | |
| --- | --- |
| | Loading… |