Our Approach
Consulting
Ambulance transport is the smallest program in Medicare and Medicaid. There are numerous specific regulations, laws, guidelines, and publications that apply ONLY to ambulance transport. Ambulance suppliers are the only group of healthcare professionals that do not primarily use ICD9 or CPT coding, and our HCPCS codes are unique to ambulance service. All of these issues are important in order to understand how EMS Consultants approach cases and why we are successful. We do occasionally represent suppliers and providers other than ambulance; however our focus is on ambulance service. Unlike most law firms and consulting groups, we have vast experience with ambulance reimbursement and know and understand the regulations and laws that are unique to ambulance services. Because of this, we are better prepared to represent ambulance suppliers. Here is a brief look at how we do it.

First
We challenge overpayment assessments on multiple grounds. We compile patient data in a manner that is easily accessible and easy to understand for the reviewers and the Administrative Law Judge ("ALJ") who will ultimately make payment decisions on your claims. In any hearing, Rick Tibbetts will present patients in a manner that is clear and directly responsive to the payment issues being appealed. Rick has represented hundreds of ambulance services before Hearing Officers and ALJs, and knows how to present patients and conditions while addressing the underlying justification for denying the claim, which can be difficult when dealing with individuals who are not familiar with ambulance services. Other medical experts, including physicians and nurses, may be used in developing your case and/or in presenting patient specific arguments.
Second
We address policy arguments and raise defenses based on CMS published guidelines. Steve Everett was active in CMS during the drafting and implementation of many ambulance related polices and provides vital background and explanation of the application of these policies to the ALJ. Steve's experience and history with CMS brings vital information to the judge, and gives our clients a level of credibility and professional authority that is recognized.
Third
We raise legal defenses based on the statutes that govern payment, documentation requirements, re-opening of claims, and use of extrapolation. Attorney Christopher Kelly is a healthcare lawyer with more than 10 years of practice focused solely on the EMS and ambulance industry. His expertise and experience in EMS/Ambulance law allows us to make arguments that many lawyers do not even know exist.
Finally
Depending on certain facts related to the statistical sampling and extrapolation used in the case, we will challenge the sampling on statistical and legal grounds. We may use statistical experts to refute portions of the sampling methodology, including sample size, defined universe, and other issues when appropriate.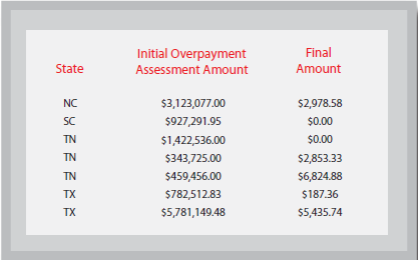 Over the past 20 years, EMS Consultants has represented hundreds of EMS and Ambulance services in Medicare and Medicaid related payment disputes totaling more than $100 Million in claims. Most of these cases came as a result of post-payment audits. Below is a chart of a few of the cases we have handled in the past three years (since the changes to the appeals process were made by CMS).  In the first column you will see the state in which our client was located (because the appeals process is done by written arguments and telephone hearings, we represent companies in every state in the country; geography is not a factor in our ability to assist you). In the second column you will see the initial dollar amount that Medicare or Medicaid demanded our client to repay. Finally, in the last column you will see the amount that our clients actually had to repay after we represented them through the appeals process.
---

| | |
| --- | --- |
| | Loading… |